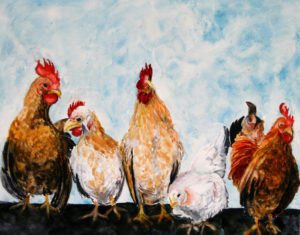 Please join us at the Millcreek Library on January 6th from 6 PM until 7 PM to enjoy the art of Gayle Allen!
Gayle Allen is an accomplished watercolor artist.  Gayle started her painting career in oil and acrylic.  About 30 years ago she discovered watercolor and everything changed for her.  Watercolor became magic.
Gayle was President of the Utah Watercolor society and was a Grand Prize Winner in 1999.  She continued to win watercolor awards from the Utah Watercolor Society through 2019 and has won awards from other art shows in Utah and Idaho.
Gayle has taught and continues to teach art classes.  She enjoys painting landscapes and animals.
Gayle lives in Millcreek with her husband and enjoys spending time with her family and painting from photographs she has taken.
Award winning singer/songwriter Anke Summerhill and Utah State Guitar Fingerstyle winner Matthew Seabury perform Acoustic Americana, instrumental original and cover music.  Read more at AnkeSummerhill.com
Light refreshments will be provided.
Please join us!
This exhibit will be displayed at the library throughout the month of Febrary.