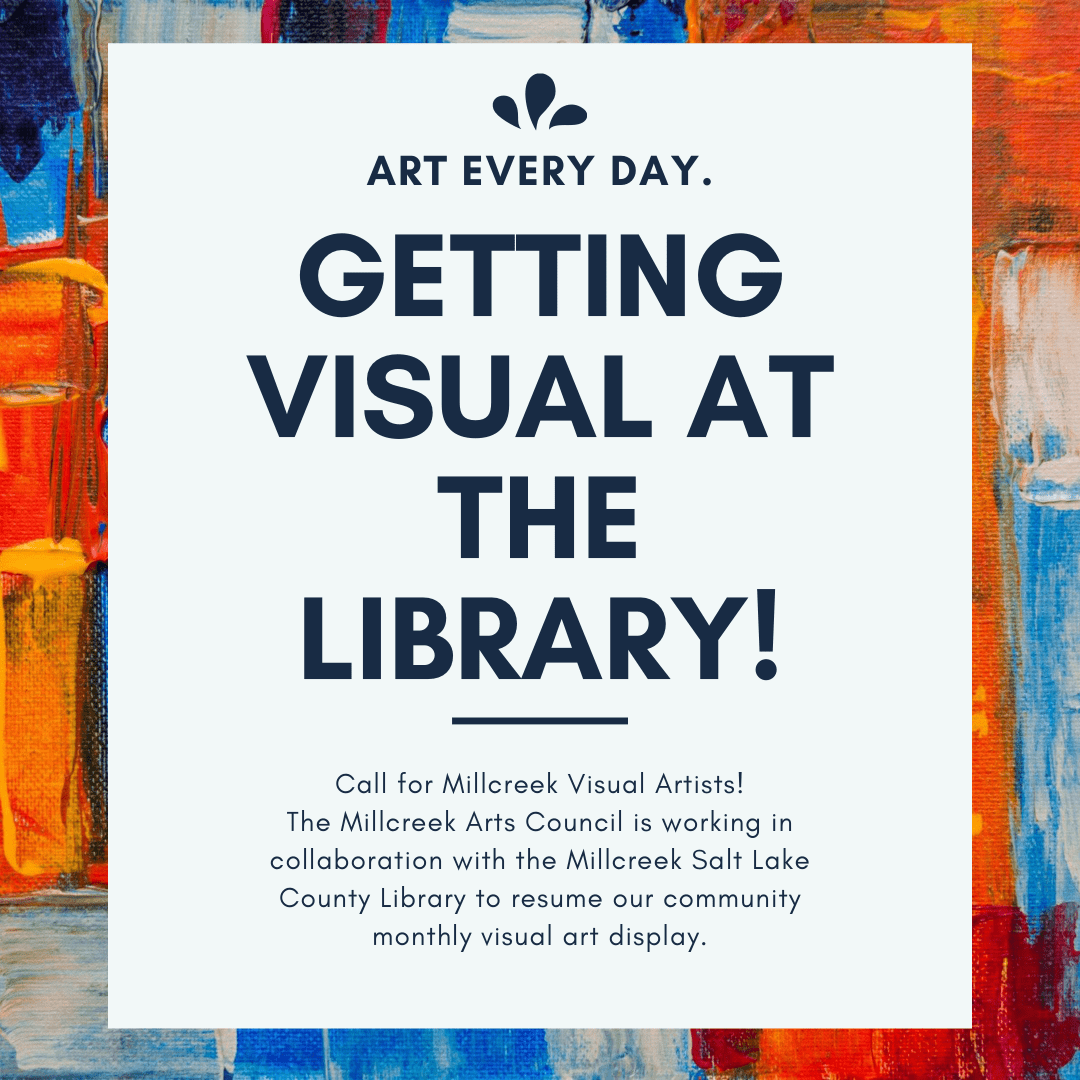 In partnership with the Salt Lake County, Millcreek Library, we are proud to announce our Gettin' Visual at the Library series.
Each month we will highlight a local visual artist. Their work will be displayed for the entire month; we will also have a one-night reception open to the public to celebrate the artist (light refreshments and live music).
We currently have Mirsada Busuladzic's work on display. For December we will be highlighting Suzy Barton's work; Suzy's reception will be held on Friday, 12/3 from 6-7pm at the Millcreek Library.
Please join us!
NOVEMBER'S ARTIST:Mirsada Busuladzic 
In her native language, her name means "Peace Now" 
Mirsada grew up and started a family in Bosnia and Herzegovina, a beautiful country in southeast Europe. At the outbreak of war in Bosnia, Mirsada and her family fled to Germany where they lived as refugees for 6 years. In 1999, The Busuladzics were on the move again – this time immigrating to Salt Lake 
City in search of a more peaceful life for their family and opportunities for their children. As is often the case with new immigrants, Mirsada and her husband worked hard to provide for their family. At a time of high manufacturing employment in Utah, both found positions at a medical supplies company in Sandy where they remained employed for nearly 20 years. 
Days, months and years filled with shift work, overtime, and raising children left little time for art – Mirsada's original passion. Recently retired, she rediscovered art after finding her children's dusty school art supplies and getting lost in putting paint to paper. She spent days experimenting with things she found around the house, including unused nail polishes and old house-painting materials. She currently paints using the more traditional medium, acrylic, but she is not afraid to mix it up with whatever may be on hand. 
Mirsada is turning her second act into something that may have been her first under easier circumstances. Her paintings are as much a therapeutic reflection of her past as they are a reaction to distressing current events. Akin to a protest vote, Mirsada's paintings are a human reaction to inhumane realities. While somber in tone, the paintings represent her personal joy of moving on from a life of musts to a second act filled with liberating self-expression. 
December's Artist:Suzy Barton
Suzy is a Millcreek oil painting artist.
Suzy got her start as a child, when her family was constantly moving around the United States.  Her mother would take the children to art museums to encourage them to get connected with art.  Suzy started drawing as a child.  Suzy went to the University of New Mexico to study ceramics where she became a studio potter practicing sculpture and ceramics.  Suzy then went on to get a masters in art therapy, counseling and Educational Psychology.  She started working with her clients with clay but then moved to drawing. She found drawing easier and less messy than working with clay.  She did a lot of work with adolescents.  One day she decided to use her drawing skills and return to them and do some painting.  She had done painting in her early 20s.  She currently paints landscapes including scenes from Utah and Italy.  She also enjoys painting birds' nests and birds.
Suzy has lived in the Salt Lake area for almost 50 years, the last 2 in Millcreek.
When Suzy is not painting she enjoys walking, tennis, and some gardening.  She used to do backpacking, skiing, and camping as well.
Suzy's website is http://oilpaintingsbysuzybarton.blogspot.com