Please join the Millcreek Arts Council on March 3rd to from 6 to 7 PM to enjoy the art of  Amy Pernich.    We will host a reception for Amy at the Millcreek Library at 2266 E Evergreen Avenue.  Music will be provided by Jason Dreher and light refreshments will be served.  Amy's art will be on display throughout the month of March.
Amy is a Salt Lake City based artist who works mainly in watercolor. Amy has had  an interest in art since she was  very young. She sketched and painted with oils in her youth. Her interest in watercolor painting began after she took a community school watercolor class as an adult. She is currently taking watercolor classes from Richard Vroom, Rockwood Artist Studios. He has taught her many things, but mostly to loosen up, add a suggestion of detail (but not too much), and have fun while painting!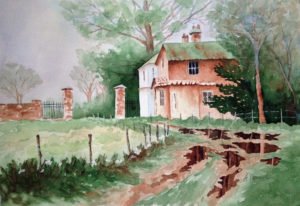 Amy loves to paint flowers, leaves, trees, rocks, and anything in nature, especially from unique angles or perspective. Subjects with strong light, shadows, and reflection are fascinating to Amy. She likes to convey a feeling or a mood in her paintings, and watercolor is the perfect medium, with its luminosity, transparent washes, and layering effects.
Contact Amy at apernich@msn.com
Instagram: apernich_watercolors
Jason Dreher started playing music at age 11, receiving private music tutoring after school on the trombone. He picked up the guitar at age 14. After High School he moved from his home state of Wyoming to California to study for 2 years at Musicians Institute in Los Angeles. Jason has played many styles of music throughout the years including jazz, country, rock, gospel, and classical. Jason is currently a junior at the University of Utah pursuing a bachelors degree in jazz guitar performance.
Light refreshments will be provided.
Please join us!
This exhibit will be displayed at the library throughout the month of March.